Save
More Customers
Churn Propensity
Retain more customers with better churn modeling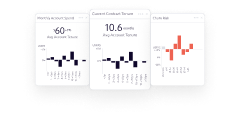 APPLY THE POWER OF BEHAVIORAL INSIGHTS TO CHURN MODELING
You could have the highest-performing churn models in your industry, but without the added power of behavioral insights from Intent HQ, there is still room for optimization. Early detection of at-risk customers is crucial to beating your competition, and even small performance enhancements can significantly impact your bottom line.
Knowing how to mitigate risk is just as important as spotting it. Intent HQ's predictive, behavioral-based insights and data features provide the answers you need to understand the root cause of churn and the offers that will resonate most with customers, helping you save them while minimizing value erosion.
The impact on your churn models is significant, providing a positive ROI and improving customer retention, ARPU, and lifetime value.
Read our Verizon case study here
Intent products at Work
Learn more about the various products working together to turn signal into relevance and revenue for your business.